Moderate to heavy rains affect Luzon; Ester to exit Wednesday
-A
A
+A
Wednesday, June 11, 2014
MANILA -- Moderate to heavy rains continue to affect western Luzon, including Metro Manila, due to the southwest monsoon enhanced by Tropical Depression Ester, state weather forecasters said on Wednesday.
Connie Dadivas, weather forecaster of the Philippine Atmospheric, Geophysical and Astronomical Services Administration, said that as 4 a.m. Wednesday, the center of Tropical Depression Ester was estimated at 330 kilometers northeast of Basco, Batanes.
Ester was packing maximum winds of 55 kilometers per hour (kph) near the center and was forecast to move northeast at 20 kph.
With its speed, Ester is expected to exit the Philippine Area of Responsibility (PAR) by Wednesday afternoon and heads toward Japan, said Dadivas.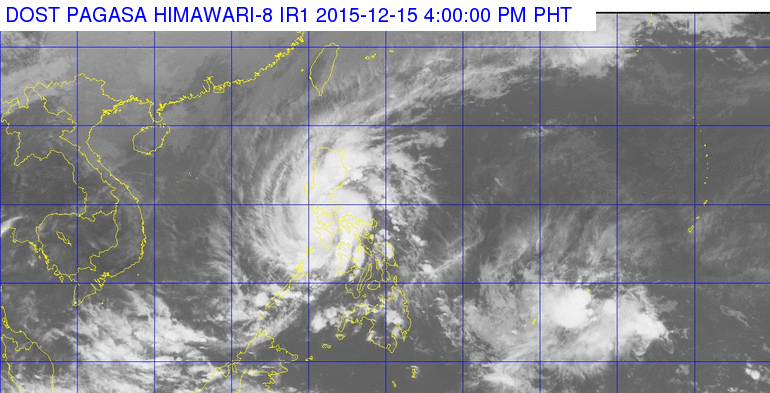 Satellite image of Tropical Depression Ester (Source: Pagasa)

But Pagasa warned residents in areas affected and their local disaster risk reduction management councils concerned to take all the necessary precautionary measures against possible flashfloods and landslides.
It said the rest of the country will be partly cloudy to cloudy with isolated rainshowers or thunderstorms.
Pagasa also issued gale warning, as strong to gale force winds associated with the surge of southwest monsoon affect northern seaboard of Northern Luzon.
"Fishing boats and other small seacrafts are advised not to venture out into the sea while larger sea vessels are alerted against big waves," it said.
Meanwhile, Dadivas said that they monitor a cloud cluster over the West Philippine Sea that may intensify into a low pressure area.
She added that the cloud cluster is still outside the country and is expected to enter once it develops into a weather disturbance.
For Wednesday's forecast, Pagasa said that Batanes, Calayan and Babuyan group of islands, the regions of Ilocos, Cordillera, Central Luzon and Metro Manila will experience monsoon rains while the rest of Luzon will have occasional rains.
The rest of the country will be partly cloudy to cloudy with isolated rainshowers or thunderstorms.
Pagasa said that moderate to strong winds coming from the southwest will prevail over Luzon and its coastal waters will be moderate to rough.
Light to moderate winds coming from the southwest will prevail over Visayas and from the south to southwest over Mindanao with slight to moderate seas. (PNA/Sunnex)
DISCLAIMER: Sun.Star website welcomes friendly debate, but comments posted on this site do not necessary reflect the views of the Sun.Star management and its affiliates. Sun.Star reserves the right to delete, reproduce or modify comments posted here without notice. Posts that are inappropriate will automatically be deleted.

Forum rules: Do not use obscenity. Some words have been banned. Stick to the topic. Do not veer away from the discussion. Be coherent and respectful. Do not shout or use CAPITAL LETTERS!