'Domeng' maintains strength
-A
A
+A
Sunday, April 6, 2014
MANILA (Updated) -- Tropical Storm "Domeng" has maintained its strength as it continues to move west northwest direction, after it entered the Philippine Area of Responsibility (PAR) Sunday night.
The tropical storm was spotted at 920 kilometers (km) east of Davao City, according to the Philippine Atmospheric, Geophysical and Astronomical Services Administration (Pagasa) in its 11 p.m. weather bulletin Sunday.
Domeng has maximum sustained winds of 65 kilometers per hour (kph) near the center and gustiness of up to 80 kph. It is forecast to move west northwest at 15 kph.
Pagasa weather forecaster Meno Mendoza earlier said, though, that Domeng will not yet affect the country in the next 24 hours.
Mendoza said the tropical storm will bring rains over the eastern part of the Visayas and Mindanao either Monday or Tuesday.

MTSAT Image 06 April 2014, 09:01 PM #TSDOMENG pic.twitter.com/5ec69Kx53R

— NDRRMC OpCen (@NDRRMC_OpCen) April 6, 2014
Domeng was forecast to be at 610 km east of Davao City by Monday evening, 200 km east of Hinatuan, Surigao del Sur by Tuesday evening, and 30 km west of Surigao City on Wednesday evening.
"Estimated rainfall amount is from 5.0 – 15.0 mm per hour (Moderate - Heavy) within the 400 kilometer diameter of the tropical storm," said Pagasa in its latest bulletin.
Mendoza said that Domeng is also likely to make a landfall somewhere between the Caraga region and Eastern Visayas by Wednesday.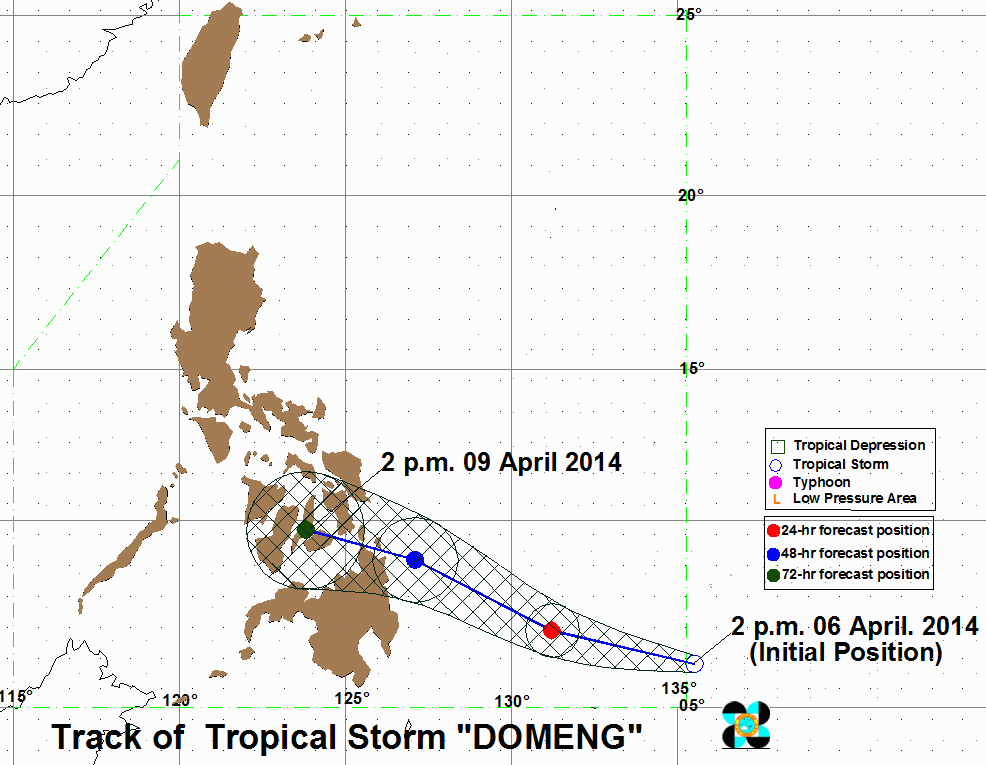 Tropical Storm Domeng's track as of 8 p.m. Sunday, April 6, 2014 (Source: Pagasa)

The Eastern Visayas is still recovering from Typhoon Yolanda (Haiyan), which struck last November. With this, Mendoza said residents should be made aware of the coming tropical storm.
Meanwhile, he said that the tail-end of a cold front is affecting Extreme Northern Luzon. The tail-end of a cold front is the front boundary of two air masses that produces clouds and rain.
In the next 24 hours, Pagasa said that Mindanao and the regions of Cagayan Valley, Eastern and Central Visayas will have cloudy skies with scattered rainshowers and thunderstorms.
Metro Manila and the rest of the country will be partly cloudy to cloudy with isolated rainshowers or thunderstorms mostly in the afternoon or evening.
Pagasa also said that moderate to strong winds blowing from the northeast will prevail over northern and eastern section of the country, and the coastal waters along this area will be moderate to rough.
The public and the disaster risk reduction and management council concerned are advised to take appropriate actions and watch for the next bulletin to be issued at 11 a.m. Monday. (Sunnex)
DISCLAIMER: Sun.Star website welcomes friendly debate, but comments posted on this site do not necessary reflect the views of the Sun.Star management and its affiliates. Sun.Star reserves the right to delete, reproduce or modify comments posted here without notice. Posts that are inappropriate will automatically be deleted.

Forum rules: Do not use obscenity. Some words have been banned. Stick to the topic. Do not veer away from the discussion. Be coherent and respectful. Do not shout or use CAPITAL LETTERS!