Mindanao disaster councils alerted as Caloy nears
-A
A
+A
Saturday, March 22, 2014
DAVAO CITY -- The different Provincial Disaster Risk Reduction Management Councils (PDRRMCs) in Mindanao were placed on alert status as Tropical Depression Caloy was moving closer to Surigao del Norte Friday evening.
The Philippine Atmospheric, Geophysical and Astronomical Services Administration (Pagasa) said that as of 10 p.m. Friday, Caloy has maintained its strength, with maximum winds of 45 kilometers per hour (kph), while moving closer to Surigao del Norte.
The tropical depression was located 160 kilometers east of Surigao City as of 10 p.m. and was forecast to move west northwest at 15 kph.
Office of Civil Defense (OCD)-Davao Director and RDRRMC-Davao chief retired Brigadier General Loreto Rirao said the PDRRMCs of Compostela Valley, Davao del Norte, Davao Oriental and Davao del Sur have conducted their respective preparations for Caloy.
The PDRRMC of Compostela Valley, through Governor Arturo Uy, has activated its Incident Command System to monitor any untoward incident, while search and rescue operatives have been put on standby.
Davao Oriental, Davao del Sur and Davao del Norte PDRRMCs, meanwhile, activated their respective operation centers.
OCD-Davao chief for operations Antonio Cloma, in a separate interview, said the Municipal and City Disaster Risk Reduction Management Councils will have a free-hand in determining whether a pre-emptive evacuation is necessary for their respective areas-of-responsibility (AORs).
"Sila ang may alam sa mga risks sa kanilang mga AOR kaya dapat alam din nila kung kelan sila magfa-facilitate ng pre-emptive evacuation. Siguradohin lang dapat nila na their evacuation will be conducted early para maiwasan talaga ang casualties," Cloma said.
He also advised residents in low-lying, flood-prone and landslide-prone areas to conduct a pre-emptive evacuation sooner, as they are the most vulnerable populace when the tropical depression makes its landfall.
On another note, Cloma said most of the 158 evacuees from the areas hit by the flood in Davao del Norte have returned to their homes as the floodwaters from the Libuganon and Saug River have subsided.
In Misamis Oriental, Christine Cabiasa, provincial information officer, said that Governor Yevgeny Vincente Emano has ordered an emergency meeting for members and department heads of the PDRRMO to prepare for any eventualities.
"The Gingoog and Provincial Capitol (PDRRMO) command centers have already been activated," she said, adding that the Provincial Social Welfare and Development Office has also prepared some 3,000 packed food items consisting of three kilograms of rice, instant noodles and sardines that are now ready for distribution to potential evacuees.
So far, she said there was no report yet of any landslide or flashflood in Northern Mindanao, except for portions of the national highway in Medina town that overflowed.
Rescue teams are also monitoring the Odiongan river in Gingoog City to see if the water level has risen there.
Cabiasa said the PDRRMO has focused most of its resources and manpower on the eastern part of Misamis Oriental, particularly in Magsaysay, Gingoog, Medina, Talisayan and Balingoan, as these towns are experiencing heavy rains.
The Cagayan de Oro City Disaster Risk Reduction and Management Office (CDRRMO) has also raised its alert level to "code yellow" and issued warning to residents, especially those living in landslide and flashflood-prone areas.
Ramon Verner Monsanto, head of the CDRRMO, said that as of Friday afternoon, the water level at Cagayan de Oro River has not risen, owing to the absence of rain in the city's hinterland areas since the low pressure area in January. But Monsanto said the CDRRMO is always prepared.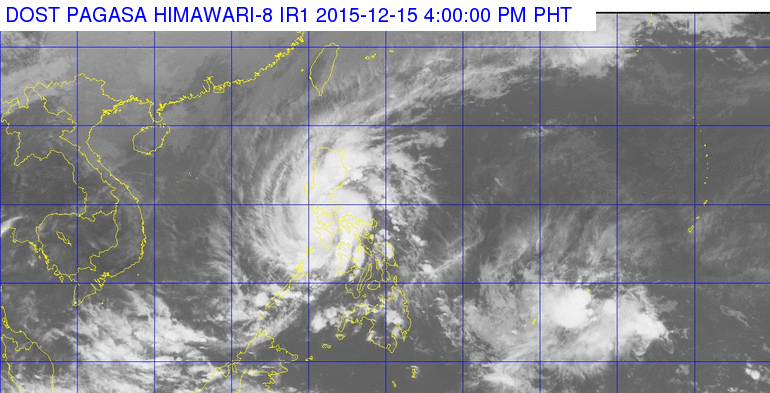 Satellite image of Tropical Depression Caloy as of Friday evening, March 21, 2014. (Source: Pagasa)

According to the 11 p.m. Friday bulletin of Pagasa, at least 16 areas in the Visayas and Mindanao have been placed under public storm warning signal number 1 due to Caloy.
Pagasa said about 30 to 60 kph of winds may be expected in at least 36 hours in the provinces of Surigao del Sur, Surigao del Norte including Siargao, Dinagat, northern Agusan del Sur, Agusan del Norte, Bukidnon, Misamis Oriental and Camiguin in Mindanao, as well as in Southern Leyte, Bohol, Siquijor, Cebu, Negros Provinces, Guimaras, Iloilo, and Antique in Visayas.
In these areas, the winds brought by Caloy may break twigs and branches, bring down some banana plants, damage some nipa and cogon houses, and suspend sea travels.
The weather bureau also said that Caloy will bring an estimated rainfall amount of 5 to 15 millimeters per hour within its 300 kilometers diameter.
Resident living in low lying and mountainous areas under public storm warning signal number 1 were alerted against possible flashfloods and landslides, while fishing boats and other small seacrafts were advised not to venture out into the northern seaboard of Northern Luzon and the eastern seaboards of Central Luzon and Eastern Visayas due to the Northeast Monsoon, Pagasa said.
Pagasa weather forecaster Manny Mendoza said earlier that if Caloy maintains its west northwest track, the tropical depression will likely traverse Mindanao and may linger inside the country. It may make landfall around Saturday noon.
By Saturday evening, Pagasa said Caloy was expected to be 50 kilometers south southeast of Cebu City, 25 kilometers south of Cuyo Island by Sunday evening, and 200 kilometers north northwest of Puerto Princesa City by Monday evening.
Caloy is the third tropical cyclone to enter the country this year and the first for this month of March. (Sunnex/With Ruji Peter S. Abat and Arianne N. Casas of Sun.Star Davao/Jigger J. Jerusalem of Sun.Star Cagayan de Oro/PNA)
DISCLAIMER: Sun.Star website welcomes friendly debate, but comments posted on this site do not necessary reflect the views of the Sun.Star management and its affiliates. Sun.Star reserves the right to delete, reproduce or modify comments posted here without notice. Posts that are inappropriate will automatically be deleted.

Forum rules: Do not use obscenity. Some words have been banned. Stick to the topic. Do not veer away from the discussion. Be coherent and respectful. Do not shout or use CAPITAL LETTERS!