Southern Cebu, 16 other areas under signal no. 1
-A
A
+A
Friday, March 21, 2014
CEBU CITY -- At least 17 areas in the Visayas and Mindanao, including Southern Cebu and areas devastated by Typhoon Yolanda (Haiyan) last year, were placed under storm warning signal number 1 due to Tropical Depression Caloy.
The Philippine Atmospheric, Geophysical and Astronomical Services Administration (Pagasa) said 30-60 kilometers per hour (kph) of winds is expected in at least 36 hours in the provinces of Southern Leyte, Bohol, Siquijor, Southern Cebu, southern part of Negros Occidental, and southern part of Negros Oriental in the Visayas, as well as in the northern part of Davao Oriental, northern part of Davao del Norte, Compostela Valley, Surigao del Sur, Surigao del Norte including Siargao, Dinagat, Agusan del Sur, Agusan del Norte, Bukidnon, Misamis Oriental, and Camiguin.
It said Caloy has maintained its strength while moving closer to Surigao del Sur. As of 4 p.m. Friday, it was located 310 kilometers northeast of Davao City, or at 170 kilometers east northeast of Hinatuan, Surigao del Sur.
The tropical depression was packing maximum winds of 45 kph near the center and was forecast to move west northwest at 15 kph as of Friday afternoon.
Pagasa weather forecaster Gladys Saludes said Caloy accelerated from 11 kph to 15 kph.
Citing numerical models with its movement, she said Caloy may make landfall in Davao Oriental or Surigao del Sur by Friday evening or early Saturday morning.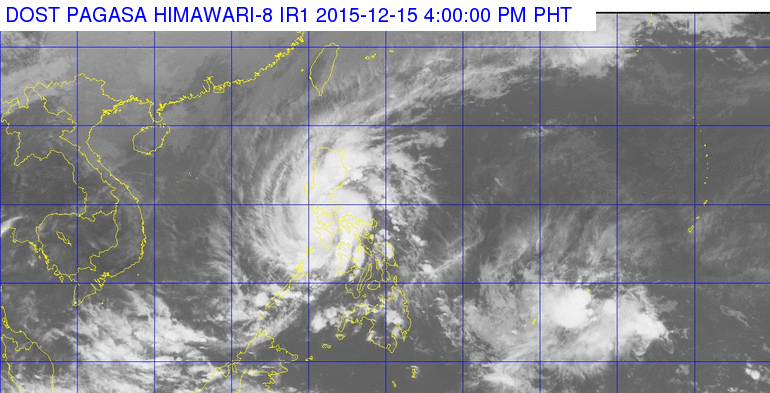 According to Pagasa, the potential impact of winds in areas under public storm warning signal number 1 includes:
* Twigs and branches of trees may be broken
* Some banana plants may tilt or land flat on the ground
* Rice in flowering stage may suffer significant damage
* Some nipa and cogon houses may be partially unroofed
* Travel of small seacrafts and fishing boats is risky
Pagasa said residents living in low-lying and mountainous areas under signal number 1 should be alert against possible flashfloods and landslides, as Caloy is expected to bring rainfall amount of 5–15 millimeters per hour within its 300 kilometers diameter.
Fishing boats and other small seacrafts were also advised not to venture out into the northern seaboard of Northern Luzon and the eastern seaboards of Northern and Central Luzon due to the Northeast Monsoon.
Pagasa said if Caloy makes a landfall, it is expected to weaken into low pressure area, as it transverses Mindanao. It may exit by Tuesday toward Palawan.
On Saturday afternoon, Caloy is expected to be 90 kilometers west of Butuan City, and 220 kilometers northwest of Dipolog City by Sunday afternoon, the weather said. (Sunnex/With PNA)
DISCLAIMER: Sun.Star website welcomes friendly debate, but comments posted on this site do not necessary reflect the views of the Sun.Star management and its affiliates. Sun.Star reserves the right to delete, reproduce or modify comments posted here without notice. Posts that are inappropriate will automatically be deleted.

Forum rules: Do not use obscenity. Some words have been banned. Stick to the topic. Do not veer away from the discussion. Be coherent and respectful. Do not shout or use CAPITAL LETTERS!